WEBINAR Part 6: Selling in a Time of Uncertainty: Pave The Road to Recovery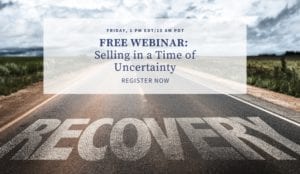 Register Here!
Free Webinar: Selling in a Time of Uncertainty
Friday April 24, 1pm ET (11am MT)
Six weeks ago, we started on this path of discovery with our friends, colleagues, clients, and industry professionals to lend ideas and insights and provide a forum for feedback for builders of all sizes across the country during these unusual times.  The interest is positive and overwhelming – and we will continue to provide support, actionable ideas and steps, along with a place to have a lively discussion and learn from other attendees in our sixth FREE Webinar.
We will Discuss:
Buyer Expectations Moving Forward
Cool New Features of LinkedIn
Discovery Questions to Engage
Is TikTok Right for your Brand?
Closing for Appointments
Providing Support for Your OSC's New Normal
The Pivot: How can builders move even more of the home buyer's journey online?
How can builders ensure they're delivering a superb Customer Experience virtually, remotely, digitally, and online?
Panelists:
Carol Morgan, Founder, and President of Denim Marketing
Leah Kaiz Fellows, Founder and Online Sales Counselor Trainer of Blue Gypsy, Inc.
Kimberly Mackey, Founder, and Sales & Marketing Management Consultant of New Homes Solutions Consulting
MODERATOR: Kelly Ann Zuccarelli, SVP, National Builder, Renovation & Condo Program Manager with Wells Fargo Home Mortgage
Special Guest: Melissa Morman, Client Experience Officer of Builders Digital Experience (BDX)
Just as a recap on our Selling in a Time Of Uncertainty Series
Part 1: Sales and Marketing During COVID-19  – We tackled ways you could quickly pivot with marketing, support your sales team, and utilize your online sales counselor.
Part 2: Ramping Up in a Time of Uncertainty – We talked a lot about tools and processes.
Part 3: Is This Our "New Normal?" – We talked about keeping everyone safe, and how to include that in messaging down to appointments.
Part 4: Sales & marketing Chart Your Course – Everyone needs a plan forward, we talked about tracking, communication, dealing with possible lead slowdowns. We also had special guest Jane Meagher to talk about news ways to deal with the design selections.
Part 5: Energy, Optimism, Action – We talked about optimism and action as some states are talking about opening up and how to maximize and scale some of the ideas we've been discussing. We also were joined by Special Guest Janice Glessner to talk about how they adjusted their marketing message and their online sales program for empathy and engagement.