Free Webinar – Selling in a Time of Uncertainty: Part 7 What's Trending – Inspiration and Spring Cleanup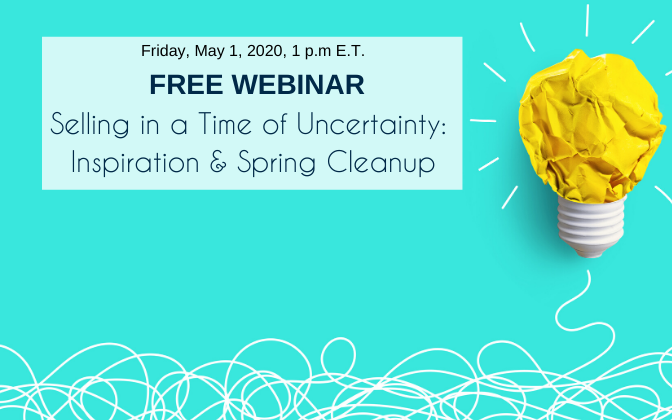 Register Here!
Free Webinar – Selling in a Time of Uncertainty: Part 7 What's Trending – Inspiration and Spring Cleanup
Friday May 1, 1pm ET (11am MT)
May Day, May Day – No our ship is not sinking, we are hosting our next free webinar on a day traditionally celebrating the change in season. It may have felt that the months of March and April had 157 days, but as states start opening up and restarting business what can we do to move forward. As we look toward the spring market, we can do some spring cleaning, find inspiration, and see what's trending. Set up for success and May will spring into action.
We will discuss:
Inspiring Your Sales Team
It's Time for Spring Cleaning—Of Your Database! (Follow-up in Ways that People will Notice)
What the #Hashtag
What's Trending on Pinterest
Revival Campaigns – How to Coax Older Leads to Engage
Smooth Online to Onsite Agent Handoff
What is working right now with email communication and what we should avoid
Better experiences for prospects and buyers with technology and systems
Panelists:
Carol Morgan, Founder, and President of Denim Marketing
Leah Kaiz Fellows, Founder and Online Sales Counselor Trainer of Blue Gypsy, Inc.
Kimberly Mackey, Founder, and Sales & Marketing Management Consultant of New Homes Solutions Consulting
MODERATOR: Kelly Ann Zuccarelli, SVP, National Builder, Renovation & Condo Program Manager with Wells Fargo Home Mortgage
Special Guest:  Angela McKay, VP, Client Experience of ECI Software Solutions
Just as a recap on our Selling in a Time Of Uncertainty Series
Part 1: Sales and Marketing During COVID-19  – We tackled ways you could quickly pivot with marketing, support your sales team, and utilize your online sales counselor.
Part 2: Ramping Up in a Time of Uncertainty – We talked a lot about tools and processes.
Part 3: Is This Our "New Normal?" – We talked about keeping everyone safe, and how to include that in messaging down to appointments.
Part 4: Sales & marketing Chart Your Course – Everyone needs a plan forward, we talked about tracking, communication, dealing with possible lead slowdowns. We also had special guest Jane Meagher to talk about news ways to deal with the design selections.
Part 5: Energy, Optimism, Action – We talked about optimism and action as some states are talking about opening up and how to maximize and scale some of the ideas we've been discussing. We also were joined by Special Guest Janice Glessner to talk about how they adjusted their marketing message and their online sales program for empathy and engagement.
Part 6: Pave the Road to Recovery – We talked about, Buyer Expectations Moving Forward, cool new features on Linkedin, whether or not TikTok is right for your brand,  and The Pivot: How can builders move even more of the home buyer's journey online and so much more.