The Results Are In! Is Follow Up Your Weakest Link?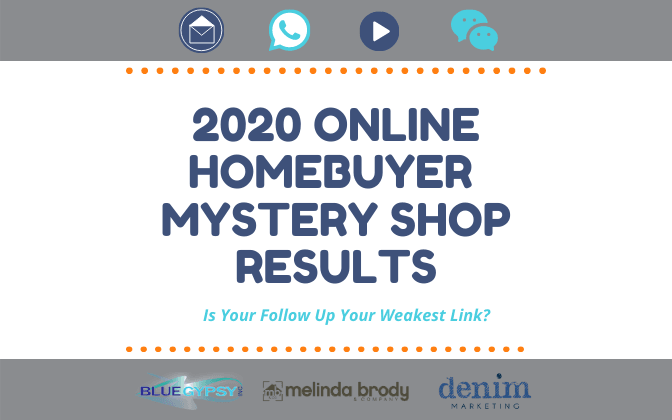 Blue Gypsy Inc. Partnered with Melinda Brody & Company and Denim marketing to shop 50 new home builders across
the country. We spent 30 days tracking the follow up processes and examined speed, frequency of messaging and diversity of touch points.
The results will shock you. Or maybe not.
In our mystery shop we noted the follow-up behaviors of the group as a whole, as well as looking at those who did have online sales counselors as apposed to those who didn't. While almost 30 builders came from the Builder Top 200 list, the rest were still substantially sized builders both local and regional across the country. Yet, 42% of builders still did not have the dedicated online sales counselor position. This means that leads are either going to marketing people within these companies our out to the agents who are in the model homes. Either way the results show that without a dedicated person who has the training and tenacity to execute a plan, leads WILL BE LOST!
We know this because 20% of builders didn't respond at all during the 30 days of follow up,  50% didn't use the lead in marketing emails, 62% of builders never made a phone call.
It is no secret that it takes 8-12 touch to convert a lead. This is why a single phone call or email just won't do when someone inquires through your website. Yet time and again we see lead follow up drop off drastically after an initial response is met by crickets. This does not mean a prospect is not interested, and being persistent doesn't mean you have to pester your prospective home buyers. A recent study by Convolo (Formerly Lead Connect) found that 78% of customers buy from the that responds to their inquiry first. So Speed is important. Sales conversions increase by 391% if a response is received in a minute or less. If a response is received in 5-10 minutes there is an 80% decrease in the likelihood of qualifying that lead.
Yet in our mystery shop not a single builder sent a personalized email in a minute or less. 60% did send an auto responder, but an auto responder is not a substitution for personalized follow up. And only 2% of builders made a call in 5 minutes or less. All of those were OSCs.
As noted not only is speed important, but so is consistency. You want to make sure that your prospects are receiving personalized emails that are targeted at their inquiry. Not just marketing emails that are pretty colorful templated information.  By diversifying your personal touch points you can still touch your prospects withou
t becoming annoying.   This means utilizing emails, phone calls, text messages and most importantly video emails.
A recent study by SNOVio Labs shows that an initial email including a video has an increased click-through-rate of 96% and using the word video in the email subject line increases open rates by 19% and decreases the number of unsubscribes by 26%. Also, 54% of email subscribers prefer emails with video.
Sadly, only 10% of builders utilized video email, and they only sent one in 30 days, and 14% text messages. In both cases 100% of those that used these methods or response were OSCs.
While these stats just skim the surface of our findings, you can download the full report here.
Or fill out the form below. And if you'd like to discuss the possibilities of shopping your own team, just let me know! Blue Gypsy Inc. is happy to do a free 30 minute consultation to talk with you more about your follow up and your online sales programs.