A Love Affair with CRM: An OSC's Real World Ups and Downs with 3 Different Programs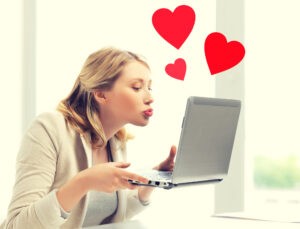 In honor of Valentine's Day, we give you a brief love affair with Customer Relationship Management tools (CRMs) and how one OSC describes her relationship with them. We will remove names to protect the innocent and the guilty – both the OSC's name, and the CRMs. But let's just call this a cautionary tale.
CRMs are the foundation of everything for successful online sales counselors. We know in life just as with any romance there is no perfect relationship and there is no perfect CRM. They all have their pros and cons, and everyone relates to them differently.
But the CRM is most important to the sales process which starts when a lead comes in through marketing sources to the OSC.  The CRM is an OSC's everything.
It helps them to create and maintain relationships
Reminds them of the tasks they are supposed to do
It allows automation for follow up as well as customization
Gives them options to stop and start different follow up processes
Keeps their history and correspondence (Capturing their love letters so to speak)
Automatically adds lead sources from a variety of avenues eliminating manual entry
Provides a library of correspondence
Tracks all aspects of interactions, engagements, ratings, rankings, appointments and more
It allows for appointment setting and passing off information between online to onsite
There are so many things that can be done with a proper CRM system to help an OSC be at the top of their game. It's like having a great partner supporting you.
When one of my OSC's started out she had one of the best CRM's out there specifically designed with the new home building industry in mind. She was in Love!
"It was like I met the love of my life!" she said. It just made her work life easy in dealing with hundreds of leads per month.
But the thing about Mr. Right was that he was great for the sales side of things… but he didn't integrate with the building and purchasing process. For some reason, some companies out there that specialize in the important and expensive software to do the bulk of the necessary stuff to builders… you know build things, estimate costs, purchase materials, create options… but these companies also tout the fact that they have "CRM" for the sales side of things.
Honestly, most of these companies should just "stay in their lane." What they say is great CRM for the sales side, is often clunky, hard to use, it's not intuitive, it's limited, and it doesn't really care about the salespeople. It doesn't have all the bells and whistles designed to help convert sales. It's more of a database. (that's different.)
But hey, they lull the builder with promises of connectivity between sales and putting together the home of a prospect's dreams. And not a lot of outside CRM's talk to the back office programs. So UGGG there is manual entry. But also, and more important to a builder, is they see it as a redundancy. Why should they pay for an expensive CRM that doesn't connect to the back end? I've seen this question a thousand times… but the truth is you need strong sales first to create strong building.
When an OSC gets a qualified prospect to the site manager, and the site manager gets them to the point where they want to envision their own home…guess what? They can manually enter the buyers information into the fancy builder system and off they will go to continue onto the next phase of the customer journey!
My OSC said when her company switched to the next CRM, "It was like my boyfriend died in a fiery car crash, and my next relationship rebounded into an abusive one." (I know graphic, but hear us out.)
This next CRM had so few of the features and ease of use that the first CRM had. Sure, it was integrated with the backend system, but the OSC doesn't use that. The OSC cares about how easily they can manage hundreds of leads and thousands of touch points and tasks. The most important part was engaging the buyer, tracking results, and setting appointments. If all your salespeople find the CRM hard to use… guess what? They aren't going to use it!
Data is only as good as the information entered. And if manual entry is the main way to get data into the CRM, lots of leads will be lost.
But it wasn't just that. The customer service was poor with the next CRM and problems were real. Everything from leads not getting to the OSC at all, and weeks of trying to figure out the problems. Just imagine how many buyers were asking for assistance and the OSC didn't even know it because the leads were being lost in internet oblivion.  That reflects poorly on the builder. And it's painful to the OSC.
Finally, the company changed again. By changing marketing companies, and changing gears, they also changed their CRM system. Not back to the love of her life, but as she said, "It's like meeting a nice guy after an abusive relationship." She can work with, and while not perfect, he's not leaving her in tears daily. While he still doesn't elicit the same level of endearment she had for her first love, she's finding easier work arounds than her last toxic relationship with CRM.
The goal with any OSC is to fall in love with your CRM because it's your number one tool and helps the entire company convert more sales. The company's goal should be to provide the best CRM they possibly can because making the sale is an important relationship step in the new home buyer's journey. If they don't feel like they are getting the right follow up and customized service from the start they aren't going to move on to the next step.  A strong CRM system is money well spent. It's not a redundancy.