Online Sales Counselors Need to be The CRM Expert for New Home Builders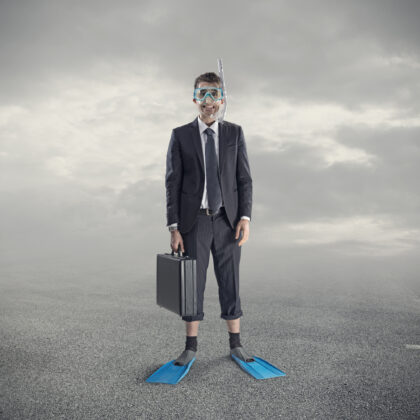 I am a coach, a mentor, a trainer, a consultant. I am not technical support or here to set up your Customer Relationship Management tool (CRM.) Why? Because the only way to become an expert in your CRM is to dive in, learn it, break it, fix it, and as Nike used to say, Just Do It!
When I work with builders, one of the most important foundational tools they will ever use with their Online Sales Counselors (OSCs) and their site agents is…you guessed it! The CRM. Yet many, many times the reason for CRM failure is the inability to adopt and learn.
First step in breaking that cycle is diving into the water.
When I was learning how to scuba dive, I had a huge fear. Luckily, I had an amazing teacher who had me do some of the skills to survive over and over and over again until I felt comfortable with it. That's part of learning.  Repetition helps ingrain new habits and behaviors.  My Dive instructor couldn't breathe for me. He couldn't remove my mask for me. He couldn't help me clear my mask… I had to do it on my own so I could become familiar with how all the skills and tools worked.
It's the same with CRM.
I can provide best practices. I can provide a very basic template for emails. I can provide a cadence for follow up. I can recommend and expect the tools that will help become successful with follow up. I help OSCs fine tune their communications to make sure calls to action are there, we double check the anatomy of the emails, we talk about the difference between templated emails, marketing emails, and auto responders. We discuss when and how to personalize messages. We look at the writing for professionalism. But I don't write them, and I don't load them into the system.
I am NOT here to set it all up for you. That is a totally different skill set and it is time consuming. It is a part of the learning curve so that you can constantly tweak and change your follow up plans to suit your current needs and environment. Not only do I not want to take away the fun for you… *wink *wink, but at any given time I'm working clients utilizing 4 to 8 different CRMs.  No not all at the same time…that would be a NIGHTMARE!
If I were to become an expert on every single CRM out there, I would have an entirely different job, and charge accordingly.
If you don't know how to set your tools up, how will you learn how to trouble shoot your problems?  This is why a huge part of any OSC program at the beginning should be learning all the ins and outs of the CRM, and every other tool essential to the success of the position. The online sales counselor should be the CRM expert in the company, or at least close to it.