3 Blue Gypsy Inc. Trained Online Sales Counselors Going For Gold at Nationals 2021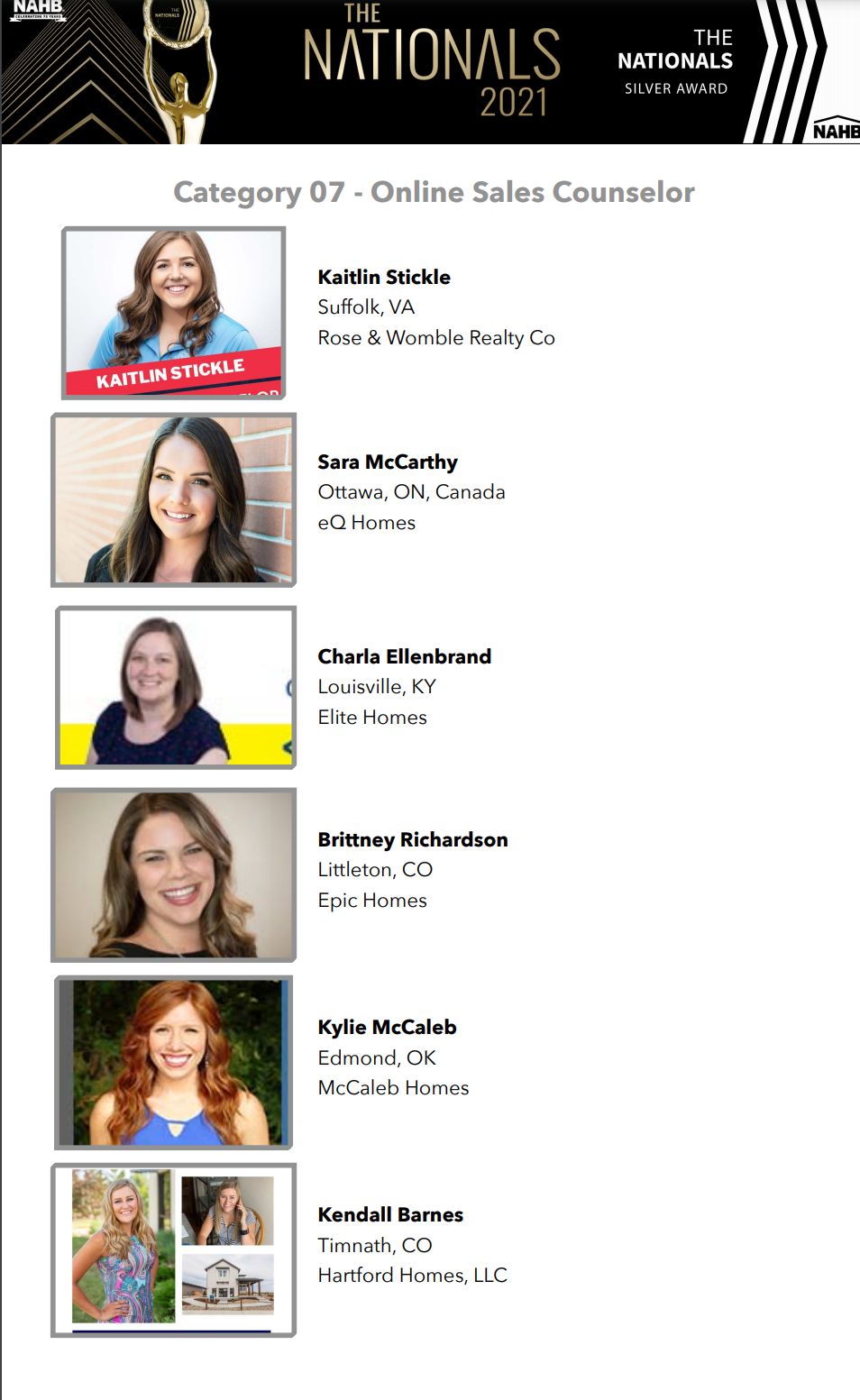 Three Blue Gypsy Inc. trained OSC's have already been awarded silver for OSC of the year and are going for gold at the NAHB Nationals 2021.
Awards and recognition are well deserved this year and that's why I nominated Charla Ellenbrand at Elite Homes in Louisville, KY, Brittany Richardson at Epic Homes in Littleton, CO, and Kylie McCaleb at McCaleb Homes in Edmond, OK.
Over the next couple of months I'll be telling you their stories.
Each one of these ladies is different and comes from different backgrounds, but all of them are exceptionally dedicated.
Kylie McCaleb Byford, online sales counselor for McCaleb Homes in Edmond Oklahoma, has a passion for new homes, marketing and helping people find that home of their dreams.  Growing up in the building industry, she's never just skated by on the coat tails of being the "owner's daughter" but instead has carved out a niche for herself and earned the respect of her sales team and colleagues. Taking the position as OSC wasn't just an easy entry into a family business for her, but a true passion for the industry and what she could do to raise the bar on customer experience for her company.
Charla Ellenbrand, the award-winning online sales counselor at Elite Homes in Louisville, Kentucky is one of the least likely people you would have expected as an OSC. Most people probably would have thrown her resume into the "no" pile before even getting to the interview stage. She was an investigator for the Clark County Prosecuting Attorney and has her degree in Criminal Justice. None of her experience screamed real estate or sales.  But I saw something in her, and she's proven me correct at every turn. I'm glad Elite listened to me and I'm sure they are too since her appointments accounted for 70% of overall sales and over 200 happy homeowners in 2019.
Brittney Richardson, online sales counselor for Epic Homes in Littleton, CO is one of the sharpest, most motivated online sales counselors I've ever helped a builder hire and train. While she is one of the newest OSCs I've worked with having started in December of 2019, she began her career as a recruiter, opened her own company and helped set up small businesses. At every step of the interview process she was fast, friendly, precise, personable, eloquent both in writing and while interviewing and she made you want to know her. Exactly the kind of personality anyone would open up to and trust as an OSC. If there were a category for Rookie of the Year in the OSC world that would definitely be Brittney's title.