Is Your Inbox Getting You Down?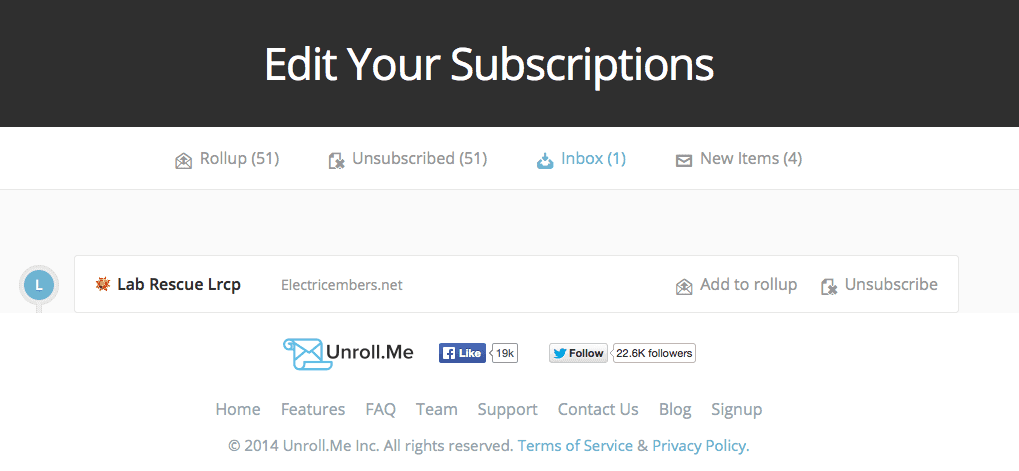 Last week I was on a mission. I wanted to clear my personal inbox of all the useless crap, spam, and subscriptions I get on a daily basis. Do you have this problem where you can walk away from your email for a day or two and when you open it back up your eyes cross with the 272 emails you have in there waiting for you to moderate?
I couldn't look at anything anymore. I would just check the block to highlight all, and hit delete! But I knew I was missing some things I honestly wanted to see. I of course let my Facebook family know I was on a mission…and as always is the case someone chimed in with something helpful beyond the, "Get rid of your email address and start over."
My friend Kelly, a social media guru, and owner of Stellar Media Marketing turned me on to unroll.me and I am so thankful she did! This little app, once given access to your inbox, takes a look at all your subscriptions and a lot of your emails you've willingly or unwillingly enrolled for and systematically asks you unsubscribe or roll up into one single email that then presents you with all your subscription emails once daily. Instead of 50 emails in your inbox, you can go to your daily roll up email and see everything broken down into categories. It is amazing!
I have still been identifying a little spam but it is now so much easier to mark it as spam and junk it and hopefully never receive it again. And you can edit your settings and when Unroll.me finds more subscriptions it lets you know and gives you a choice to unsubscribe, roll it up, or leave it coming to your inbox.
If you want to clean up your inbox as part of your new years resolution I highly recommend checking out this app.