Guest Post: When Markets Shift – Insights From The Field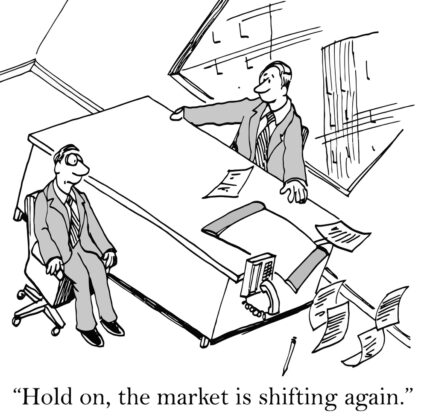 Guest Post by Ashley Dailey
Former Online and Onsite Sales Agent
Current CEO – Rainmaker – REALTOR
Dailey Properties
When markets shift, it is time to think outside of the box! I came into real estate in 2010 – selling NEW construction homes- just when the first time buyer tax credit ended, rates were 6-7%, the foreclosures were everywhere & the buyers were scarce!
H O W E V E R I chose to create my OWN market! I didn't listen to the negative nancies who'd been in the business forever
I went into a new home neighborhood – 45 mins from where I lived- as a brand new sales person & sold 36 homes in 8 months. No one told me they'd only sold 6 in the 12 months- prior to me coming in. I didn't let the crappy market impact ME or my mindset. I put my head down and out hustled everyone around me. Everyone.
This led to many doors being opened for me. I moved on to another home builder and worked to put their name on the map in Tulsa. I was named sales person of the year in 2013 because not only did I revitalize their business, their build plans and communities, I help them start a community in Jenks, Bixby and Glenpool, where I recruited, trained and hired Brandi True and Elizabeth Sellers. Both still in the business and successful. I hired a sales team of working single mothers, they had PHDs (poor, hungry, and driven)!
So my advice to every agent out there who is so fed up with this crazy market, create your OWN! Find your PHDs to give you the hustle you need in this market and quit listening to the chatter.
Things I did and still do which set me apart from others:
I cultivated relationships, face-to-face, with people in the community
I hosted/sponsored events at the local schools
I had a garage sale at my model home to raise funds for a local charity and asked the homeowners in the community to bring their items and have some free lunch while there
I hosted events in my model home and let vendors set up booths
I joined every association, REALTOR group, and networking group I could find
I never missed an opportunity to speak in public places about the home builder I represented: chamber of commerce, women's groups, realtors groups, networking groups, you name it, I was there.
I cultivated relationships by showing up, volunteering, and truly caring about the communities I served.
I changed the narrative at a time when home building morale was in the trenches!
I loved and believed in what I was doing and I shared this vibe with everyone around me!
I never gave up

Keep your head up friends! Some of us have survived worse markets and we're willing to share some wisdom to help you as well!