BGI's OSC University – Live Education and Virtual Support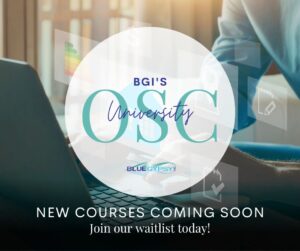 There aren't enough educational opportunities out there for Online Sales Counselors to further their career. Many times, OSCs are dependent on their companies to hire trainers and coaches like me to come in and help. (And there aren't many of us!)
Are you an OSC that wants to find your own training, coaching, and mentoring?
What if you've had a taste of coaching and training and would like to try out other flavors?
Wouldn't it be nice to meet an entire community of people who do what you do?
Isn't it time to step out of the bubble and into a world where others understand?
If you are a builder, this is the kind of support your OSCs crave!
If you are an OSC, it shouldn't be priced out of your reach!
2023 begins year 10 of Blue Gypsy Inc offering coaching, training, consulting, and strategy. We've helped builders put together award winning online sales programs across the United States over the past 9 years and we want to expand our offerings and continue to provide support in the industry. Our goal is that you succeed.
We want to provide:
Something a little different.
Something within reach of individual OSCs to strengthen their skills, be a part of a community, and learn new things.
Something that gets OSCs out of their comfort zones and expands their world.
Something that continues to ignite that desire to learn, grow, and be better.
Something that supports, inspires, and engages critical growth and learning.
We've provided the encouragement, expertise, and support to builders to create strong online sales programs producing as much as 80% of overall sales for companies.
We've worked with local and regional builders building 50 – 1500 homes per year and understand how to scale accordingly.
While we know the true value of our 6-, 9-, and 12-month training and consulting programs that provide customized support, we also understand that sometimes you must start out somewhere. And that somewhere should be here at our OSC University.
Right now we are building our interest list for BGI's OSC University, when you join our interest list we are interested in your feedback on what you actually want to learn, do, and know and have it available to you.
Join Our Interest List Today!