How Dog Rescue Keeps Me Sharp for Online Sales Training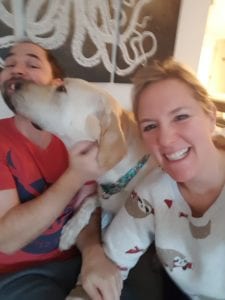 I have worked in the world of online sales since 2007. After a year of working on a new home site as a site assistant, I began working in the office for a new home builder, as their Online Sales Counselor (OSC). It was a relatively new role at the time, and I invented it from the ground up, showing successful metrics out of the gate.
For 7 years I worked as an OSC before I eventually decided to become a trainer, and train builders all about what I knew in order to help them set and achieve their sales goals when it came to online leads. The freedom of starting my own business, and ever striving to keep work-life balance, gave me the opportunity to volunteer my time, energy and effort toward dog rescue. I became an Adoption Coordinator (AC) with the Lab rescue where I adopted my own dogs.
First off, I LOVE their organization. Their organic process is very much like the process I created with online sales! It was a perfect match. The leads come into the rescue, in the form of an adoption application, and as an AC, I get the opportunity to check references, interview the applicants and then match them to the perfect dog.  This, in many ways, reflects some of what I do as an online sales trainer and consultant as I'm helping a builder start up a new program and interview and hire their OSC.
The first step with an adopter is making sure their philosophies match our rescue. There are many homes for dogs out there, but our rescue is very strict. We have policies and procedures that not everyone wants to follow.  That's okay, we understand we aren't the right rescue for everyone, and part of the vetting process is to make sure that the adopters is good enough for our dogs. This is similar to what I do when I'm hiring an OSC for a builder. We need to make the right match. Make sure they have the same goals in mind for the long-haul and betterment of the position.
At the rescue, our philosophy is that if it's the right home for the dog, then it's the right dog for the home. In a year and a half of volunteering I have helped over 50 dogs find that "Right Home." I have found it as satisfying as helping home buyers find that right home! And helping home builders find that right OSC!
When you can combine multiple layers of what you love into what you do, life can be a very fulfilling proposition. Finding the right OSC, who is going to get up and be excited every day to help home owners find a home and be a part of a builder's team, is just as exciting to me as finding the perfect home for a dog.
As I continue to work in dog rescue and draw correlations between the process of both my profession and my passion, it keeps me sharp and invested in training the very best OSCs.