Can You Outsource Online Sales, Social Media and Blogging?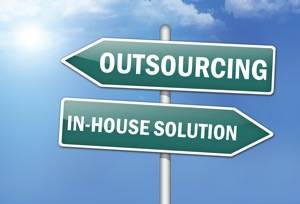 It isn't always easy to keep up with the myriad of tasks you have on your plate as a business owner.  Can you outsource your blogging, social media, and online sales?
These three important aspects of your homebuilding business are definitely elements that need to be expertly addressed.  If you have a small office, and would like to keep your overhead costs down on employment, outsourcing to an expert may be your answer.  But how do you choose the right subcontractor?
Your best bet is to seek out and hire an expert who is already familiar with your industry.  Finding someone who speaks the language is essential and will save you time and frustration on training larger concepts.
Three important roles that today's homebuilders should make a priority to fill are online sales counselors, bloggers, and social media managers. In today's market if you are lacking these three roles, you are behind the times and your competition is ahead of the game and could be gaining momentum on you through creative relationship building and customer service.
An online sales counselor does not need to be onsite to be on target.  If you hire someone with experience in real estate sales and technology this role can be filled from a distance. Skills to look for in your online sales counselor are organization, writing ability, follow up skills, ability to qualify and ask questions, personable, professional, great phone presence, persistence, and if you are going to outsource you need to make sure you have a motivated self-started. Make sure you have the proper tools in place to outsource this position, which would include a dedicated CRM for homebuilders, proper reporting, and benchmarks for success.  It is also essential to set up proper communication and buy-in between onsite sales and online sales counselor so that they work together as a team.
A social media manager is someone who knows your industry, is up on the latest technology and can organize and implement a social media plan that is targeted for your business. This is a person who is knowledgeable about Facebook, Twitter, LinkedIn, YouTube, Google+, Pinterest and any other social media channels that can be useful to your business.  This is a person who can do most of your posting, and can collaborate with your onsite sales people to create and post current information such as photographs, videos, events, openings, and customer appreciation.
Content is king, and blogging on your real estate site is important to keep search engine spiders crawling new content. Blogging, along with the rest of your social media, helps craft your company's identity. Blogging can assist in establishing yourself as a knowledgeable company in your field.  Blogging gives buyers insight into your homes, your philosophy and your ability.  Again by hiring someone with excellent writing skills and familiarity with your field, you can create a set of parameters or writers guidelines and easily outsource this peice of the puzzle.
These roles can all be filled by the same industry expert or organization if they posses the skill sets for each individual role.  Talk with us more about filling these roles in your business.